Have you ever traveled from one climate to an entirely different climate only to notice that your skin reacted in an unpleasant way? Climate affects the skin as much as genetics and overall skin health.  Pour Moi is the only skin care line with unique formulas for every conceivable climate and perfect for those who travel.
While traveling from New York, to Los Angeles and Europe, Pour- Moi founder, Ulli Haslacher, discovered that her skin reacted differently in each climate.  Frustrated that there wasn't a skincare solution for different climates, Ulli teamed up with scientists, dermatologists, and beauty experts around the world to create Pour Moi (For Me).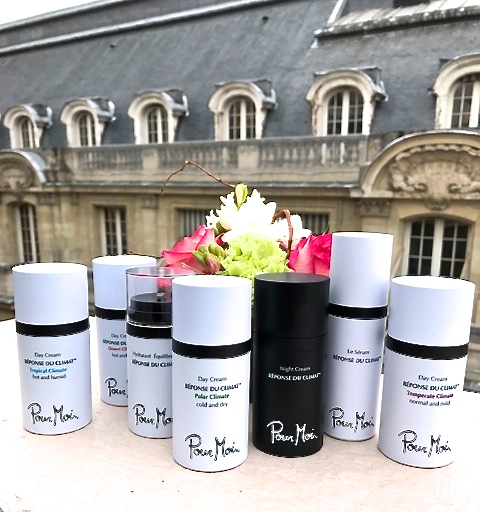 I live in Los Angeles which is dry most of the year, and my skin constantly needs moisture because it is already dry.  But I traveled to Mexico in December, which was humid, and Paris in February, which was cold. Each of these three climates required a different type of skin care regime.  I was blown away at how using the right face cream for each climate kept my skin flawless and looking its best. For Los Angeles, I use the Desert Climate moisturizer.  I find it works best as we are typically dry all year especially in the summer.  When I was in Mexico, I used the Tropical Moisturizer since my skin was getting more than its usual share of humidity, and I didn't want my skin to break out. And when I was in Paris in February, it was a no-brainer to use the Polar Climate moisturizer since it was incredibly cold.  Not only do I love the moisturizers, but the serums are a must as well. Depending on your skin type, the Black Serum is for overall dry skin, and the White Serum is for naturally oily skin.  I start with the Black Serum and then use the moisturizer that fits the climate I'm in.
I'm not sure why no one thought of this concept before because it just seems to make so much sense.  I spent years traveling down to the South to visit family only to have the humid climate there cause my skin to breakout because I was using a heavy moisturizer living in Los Angeles. It never occurred to me that my thick moisturizer for Los Angeles climate was causing my skin to breakout when I reached a humid climate.   Now, I never have to worry again.
So what's your skin type?  Do you travel? Do you want a moisturizer that works with the environment you live in?  Made in France, Pour Moi is free of commonly used irritators. It's 100% fragrance free/(bad) alcohol-free, 100% mineral oil free, 100% paraben free, and 100% gluten free.
Get 40% OFF your entire purchase using coupon code: MAMA10 which will be good through April 10th! Wow, that's a great deal so go give Pour Moi a try!  Your skin won't be disappointed.