I'm so excited to announce that my twins will be in the upcoming film, Mother's Day, starring Julia Roberts, Kate Hudson, Jennifer Aniston, Jason Sudeikis, Britt Robertson, Jack Whitehall, and Shay Mitchell, directed by the incredible, Garry Marshall.  Both Remy and Charly play the same role- Katie.
It was certainly an interesting experience being the mom of "talent" on the set.  I'm not going to lie, it was hard.  We filmed in Atlanta and lucky for me I had family there to help, but it was still incredibly exhausting.  My girls were 13 and 14 months old when they filmed.  That age is difficult, especially when they've just learned to walk.  That new discovery makes controlling them virtually impossible.  Not to mention that my girls are very scheduled and their nap schedules never aligned with their shoot schedule.  Babies are creatures of habit and need their cribs and dark rooms and comforting familiarity.  When naps were missed, keeping a baby entertained and happy on set can be a daunting task.  But as luck would have it, I figured out a few tricks that worked in my favor.
Tips for Kids on Set
Always carry lots and lots of snacks, bring favorite toys to play with, blankets and pillows, and always have an extra bottle or two of milk for emergencies.  This is what I did everyday that they were filming.  When we left the trailer to head to set, not only would my bag be filled with snacks but I would also fill my pockets with these little organic yogurt treats.   And as I would hand a baby off to the actor, I would not only shove a treat in her mouth, but I would stuff the actors pockets with treats to give her so she wouldn't cry.  Then I would dash out of site because if they could see me, they would start fussing for me.  When the words, "Camera rolling…sound speed," were uttered, the actor would give my daughter one more treat before the word "action!" and all was golden with baby, actor, director and ultimately, the scene.  Treats, by far, are your best friend!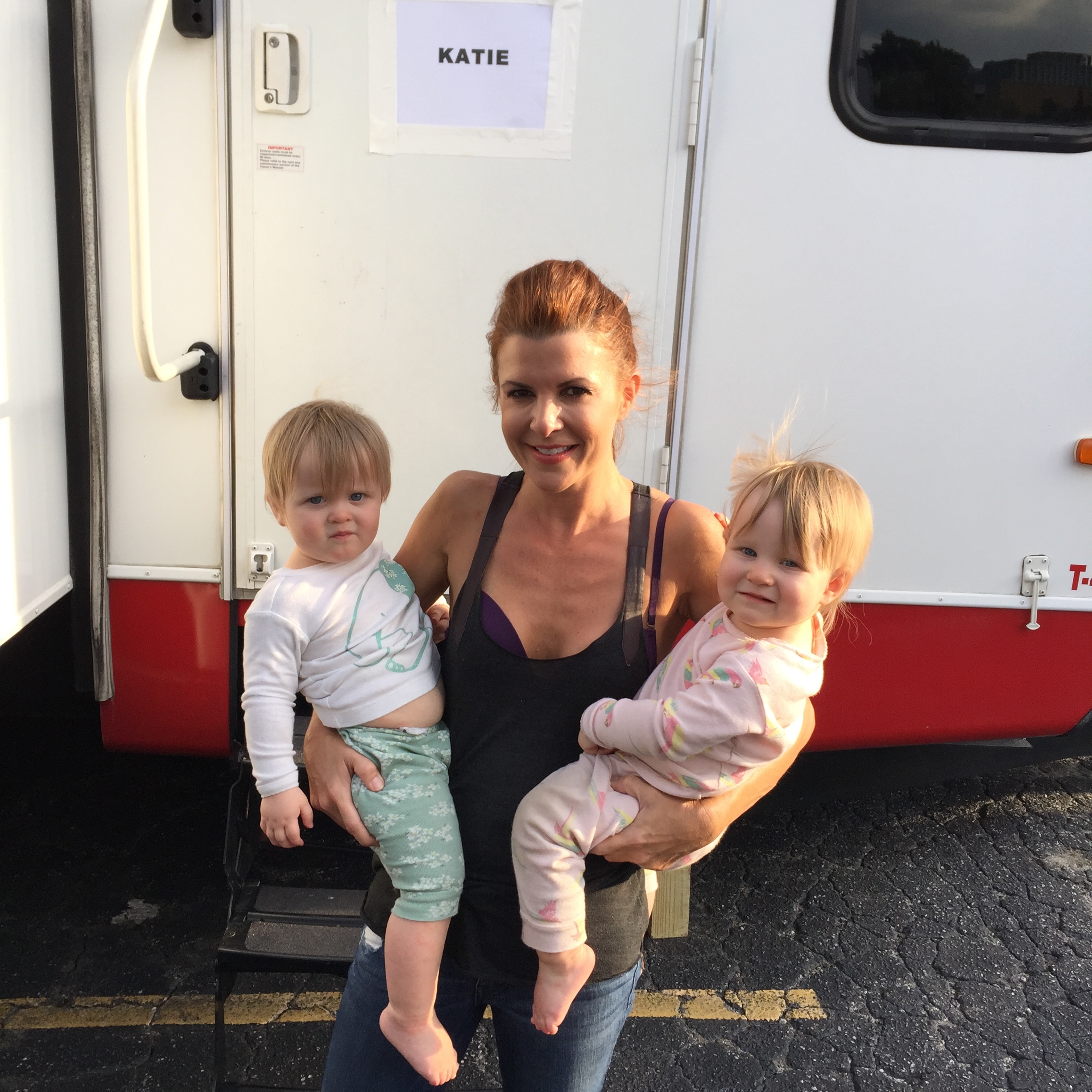 It Feels Like Family
After having been so blessed to have acted in 4 other Garry Marshall films, it was an incredible feeling to have had my daughters work with him- to pass the torch so to speak.  Garry is all about family so he tends to hire many of the same actors and crew from previous films.  Not only was he loving and gentle with my girls but the whole crew, many of whom I've worked with before, made me feel at home.  I think this was a unique experience that we will never have again, and for this reason I am extremely thankful.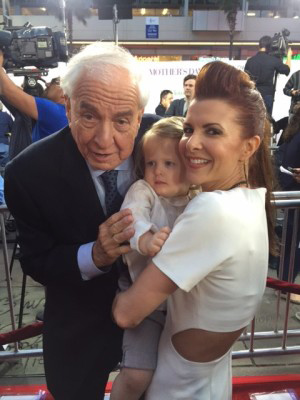 A Red Carpet Affair
Now my girls are 21 months old and a lot has changed since they filmed last summer.  Not only do they have lots of words they say, but sometimes the tell ME what to do.  They were just starting to blossom last year, but now you can totally see their distinct personalities.  One of those being- if i don't know you, I'm not smiling for you.  I just love these photos from the red carpet premiere of MOTHER'S DAY where no matter how many photographers screamed their names, they were't going to give them a smile that easily.  I'm just happy that I have photos at all that I can share with them when they are old enough to appreciate it.
In Theatre's April 29, 2016!
If you want to laugh and cry but more importantly relate to parenting in all its many forms, then you should go see MOTHER'S DAY!!!  Oh and take your mom too!