I guess one can say that Shea Curry has always been a creative soul. From the tender age of 3 she started dance lessons and garnered many awards in her youth. But it wasn't really until she started acting in local community theatre and taking classical, opera lessons at age 9 that she really found her passion. Starring in local musicals led her to pursue a BFA in Acting from Marymount Manhattan College in NYC with a minor in musical theatre. Shea studied dance at the famed Broadway Dance Center and the Martha Graham School. In college, she played leads in countless musicals like Three Penny Opera and the revival of The Grass Harp. Summers were spent doing Summer Stock performing leads in musicals such as The King & I, Oliver and A Funny Thing Happened on the Way to the Forum. And by the time she was finishing her senior year in college, she was performing and collaborating with Charles Strouse, composer of ANNIE, etc. Her big break came right before she graduated from college when she was cast in Hal Prince's SHOWBOAT with Susan Stroman as choreographer. Not only was she poised with the most incredible performing job post graduation, but she was also already set to sing the national anthem at Alice Tully Hall at Lincoln Center in front of one of her idols, Betty Buckley, who was the commencement speaker that year.
After 2 years performing in SHOWBOAT opposite Cloris Leachman, Len Cariou, Dick Van Patten, and Dean Jones, etc., Shea moved to Los Angeles to pursue TV and Film. Some of her film and TV credits include: The Princess Diaries 2- The Royal Engagement, New Year's Eve, Valentine's Day, Hancock, Georgia Rule, Las Vegas, Nip/ Tuck, Malcolm in the Middle and The Hard Times Of RJ Berger. And of course her love for the stage still beckoned her back occasionally where she played leads in Annie, West Side Story and received a Garland Award nomination for best actress in a play for her role as Blue in the play Beirut.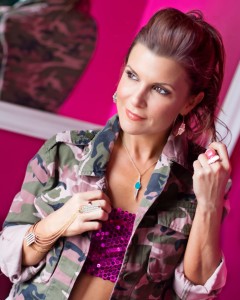 Shea is also a jewelry designer and was a reality TV show contestant on LIFETIME'S Project Accessory from the producers of Project Runway in 2011. She began creating jewelry in her movie trailer on the set of Princess Diaries 2 – the Royal Engagement. To pass the time during the film's production, she made jewelry for the entire female cast and crew, and it was on that set that her career as jewelry designer took shape. She knew she had something unique when the pink wedding dress and jewelry she designed was featured in InStyle Weddings Magazine.  Her jewelry has been sold world wide and seen in stores like Neiman Marcus Cusp, Anthropologie, Henri Bendel, and Ron Robinson to name a few.
Her creativity continues through the world of motherhood. Shea has always loved creating fun projects around the house with painting, sewing, and cooking; so becoming a mommy only fueled the creative juices. She loves sharing those Do It Yourself (DIY) inspirations as well as her real thoughts on the fun and trying moments of motherhood and career. She hopes to inspire or at least let other moms out there know they are not alone with their exhaustion and love of parenting.